Our history inspires the work we do everyday.
Founders Spencer and Julie Penrose were visionary community stewards who invested in the well-being of the people of Colorado. Speck's proclivity for promotion and Julie's empathetic altruism uniquely positioned them to improve the lives of Coloradans. They created El Pomar Foundation to ensure their commitment to community would endure.
We honor their vision by supporting and working alongside nonprofits, and directing programs focused on leadership development and community engagement. We preserve and share the Penrose legacy to inspire future generations.
Speck was a pioneering entrepreneur who utilized his Cripple Creek and Utah mining venture profits to develop and promote the Pikes Peak region as a world-class destination. Julie was a forward-thinking philanthropist who understood that access to healthcare and the arts was critical to the well-being of a community. They were both distinctive individuals with their own interests who knew how to combine their vision for the greater good.
This enterprising couple recognized need and opportunity. They created landmark institutions with generational impact.
A Philanthropic Tradition
Both Spencer and Julie Penrose were inspired by their upbringings.
Growing up in Detroit, Julie watched her father serve the community through his engagements as mayor, police chief, founder of the Detroit Public Library, and a director of the local Humane Society.
As a young man in Philadelphia, Spencer was influenced by his father and brothers who made significant contributions to their respective fields in medicine, politics, and geology.
When Speck was a 20-year-old Harvard University student, he wrote an essay on what most influenced national development and concluded, "One great man opens and prepares the way for many others. Thus, the influence of great men is continually multiplied and increased."
Creating long-lasting impact takes foresight, vision, and continual care.
The Penroses had foresight and vision. In addition to the things they built, they supported nonprofits focused on the well-being of Coloradans. Some of those organizations included Pikes Peak United Way, American Red Cross, Colorado Springs Day Nursery, Associated Charities, and the Boys and Girls Clubs. They lent their time and leadership to organizations like Fountain Valley School and Central City Opera.
To provide continual care they established El Pomar with the mission to enhance, encourage, and promote the current and future well-being of the people of Colorado. Through El Pomar, their philanthropic legacy endures. El Pomar supports nonprofits and government entities in the areas of arts and culture, civic and community initiatives, education, health, and human services.
As times change and the Foundation's approaches evolve, our commitment to the Penroses' intent, priorities, and vision remain constant.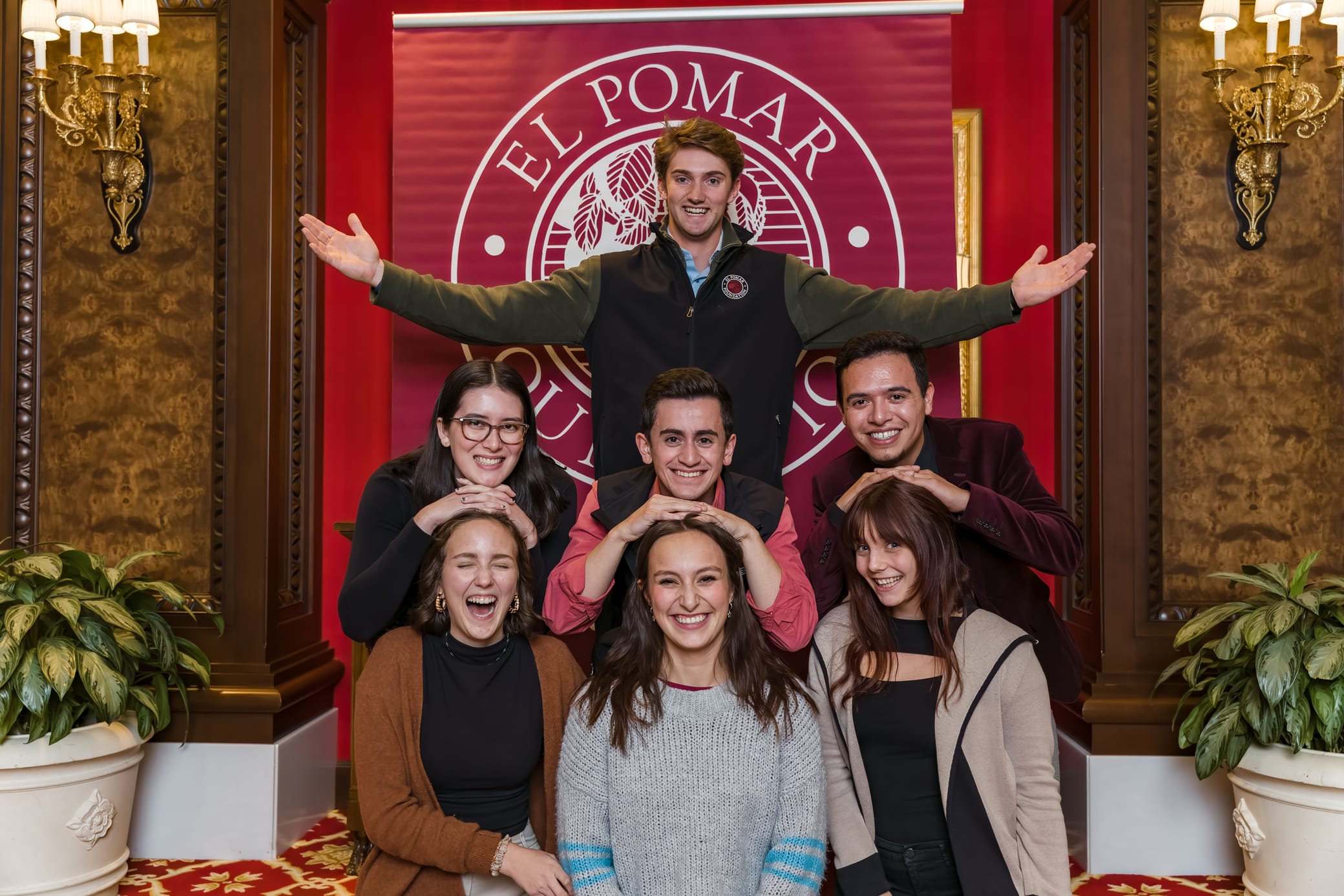 Creating a Multiplying Effect
Just as Spencer Penrose observed that one man can prepare the way for many others, thus continually multiplying and increasing influence, El Pomar's Trustees realized over thirty years ago that we could contribute more than grant dollars to support the success and vitality of communities and nonprofits throughout Colorado. With the addition of leadership development and community engagement programming, we've taken a more active role in developing nonprofit leadership capacity as well as a leadership pipeline, been more in touch with community leaders throughout Colorado, and can better evaluate the impact we make across the state.
In 1989, we created our first program, "Awards for Excellence," and since then have added a variety of programs to build on this goal of going beyond grants to create a multiplying effect. Some have concluded over that time, but today, El Pomar operates or supports 14 programs, including three historic properties.
An opportunity to encounter history is an opportunity to be inspired. Our one-of-kind historic properties, a program of El Pomar Foundation, welcome visitors to engage with place and community through curated exhibits, stunning architecture, and the natural environment.  
Whether you want to visit a museum, a mountain shrine, or a historic home turned conference center, our historic properties are a legacy you can experience.
When Speck was born in 1865 and Julie was born in 1870, folks traveled everywhere in all sorts of carriages and coaches. The Penroses loved automobiles and owned several, but they wanted to ensure the history of the carriage was not lost to the high-speed allure of the horseless carriage. Newspaper articles suggest Speck purchased carriages in 1926 to exhibit them in a special building on The Broadmoor campus. We do not know for sure if the special display was created, but we do know that shortly before he died in 1939, Julie purchased an additional eleven carriages for the museum she would build at The Broadmoor in 1941.
Julie commissioned Bauhaus architect Jan Ruhtenberg for the project. Ruhtenberg first made small-scale replicas of the Penroses' carriages and artfully arranged them. He then designed an oval-shaped building around them. Completed in 1941 for $29,000, the El Pomar Carriage Museum was reported to be Ruhtenberg's most beloved design and the museum's modern building was known well by neighborhood locals and visiting tourists.
The original building was razed in 2003 and the collection was moved to its current location in Broadmoor Hall. The museum was expanded in 2014 to include the Pikes Peak International Hill Climb Experience and then renamed Penrose Heritage Museum. Visitors today can view the full evolution of transportation, experience the inspiring legacy of the Penroses, and marvel at the thrill of daredevils and automotive pioneers who challenge Pikes Peak in its annual race to the 14,115-foot summit.
Will Rogers Shrine of the Sun
Speck commissioned architect Charles Thomas to design a tower on Cheyenne Mountain to serve as the Penroses' final resting place. Construction began in 1934 during the Great Depression, so Speck hired workers through the Civilian Conversation Corp, a national work program designed to provide income to men during the economic downturn.
The architect advised Speck to order building granite from out of state, but Speck insisted the property be built of the native Pikes Peak granite from Cheyenne Mountain. From a site approximately 700 feet from the building site, workers quarried and hand-chiseled the hard granite into the building blocks of the 114-foot-tall monolith. It was named the Shrine of the Sun for the way it captured sunlight each morning and evening. During construction in 1935, beloved American humorist and national celebrity Will Rogers died tragically in a plane crash. Across the country, institutions were renamed or dedicated in his honor. The Penroses decided to pay tribute in this same fashion and dedicated the Shrine to Will Rogers.
In addition to the Shrine's unparalleled view of the city down below, visitors to the Shrine today enjoy a unique musical program that has enchanted visitors and the surrounding neighborhood for more than 80 years with musical renditions of classical melodies and modern tunes. The Shrine also features a mural by renowned Santa Fe artists Randall Davey, religious relics the Penroses collected, some of which date as early as the 15th and 16th centuries, and works of art collected from the Penroses' travels throughout Asia.
Grace Goodyear Depew, an heir of the Goodyear Lumber Company, hired Philadelphia architect Horace Trumbauer to design her a one-story estate in the Broadmoor neighborhood in 1910. The sprawling residence was built on the former Dixon apple orchard and in its honor, the home was named El Pomar, Catalan for "the orchard." Grace married Ashton Potter and the couple became good friends with Spencer and Julie Penrose. The Potters did not live at El Pomar long before they both passed away. In 1916, the Penroses purchased the home and made it their own.
They hired renowned landscape architectural firm the Olmsted Brothers to redesign the grounds with courtyards and terraced gardens. Speck worked with the firm at The Broadmoor. Later, the Penroses hired architect Charles Thomas to add second and third floors to the home. The Penroses hosted teas, lunches, and cocktail parties for friends and family, celebrities and dignitaries, and special groups staying at their Broadmoor resort.
In 1944, Julie moved into The Broadmoor in what is now known as the Penrose suite. She donated the El Pomar estate to the Sisters of Charity of Cincinnati in recognition of their importance in the community and the care they provided Spencer during his final years. For nearly five decades, the Sisters operated the home as a spiritual retreat center. In 1992, the Foundation purchased and designated Penrose House as a conference center available to Colorado's nonprofit sector. Penrose House was officially listed on the National Register of Historic Places in 1995.