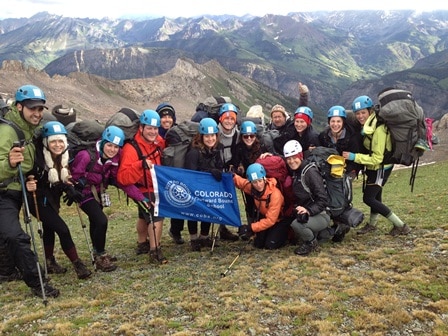 Since 1937, we have continued the mission set by Spencer and Julie Penrose to enhance, encourage, and promote the current and future well-being of the people of Colorado.
Yes, we make grants, and there's much more
Since 1937, El Pomar has made more than 25,000 grants all over the state of Colorado to over 5,000 nonprofits. Over thirty years ago, El Pomar's Trustees realized we could also contribute more than grant dollars to support the success and vitality of communities and nonprofits throughout Colorado. Today, we work hard to create a compounding effect through a trifecta of grant making, programming, and historic properties where people convene and connect to address current issues and learn about the past. 
Rooting into our deep legacy in Colorado, we make grants all over the state and invest in organizations, people, and partnerships that help people live better lives. Following in the footsteps of our founders, Spencer and Julie Penrose, we have a broad grant making scope with greatest focus in the areas of arts & culture, civic and community initiatives, education, health, and human services. 
With leadership development and community engagement programming, we've taken a more active role in developing nonprofit leadership capacity as well as a leadership pipeline, been more in touch with community leaders throughout Colorado, and can better evaluate the impact we make across the state.
As a manifestation of El Pomar's commitment to convening people for learning and dialogue, El Pomar operates properties such as Penrose House to serve as a nonprofit conference and education center. We welcome Colorado nonprofits and government equivalents to use the space at no charge for meetings, retreats, and trainings. 
Who and what's behind the mission?
It might sound trite, but it's true it's all about the people – our founders, Trustees, leadership, staff, and the people of Colorado who we support to help build better lives. 
Together Trustees and staff honor the legacy of Spencer and Julie Penrose by carrying out El Pomar Foundation's mission through statewide grant making, community engagement and leadership development programs, and spaces to convene and connect.
Spencer and Julie Penrose met in Colorado Springs and married in 1906. A mining industry entrepreneur with childhood friend and business partner, Charles L. Tutt, Spencer created many iconic attractions in the Pikes Peak region. The couple also founded or made transformational gifts to nonprofits and established El Pomar Foundation in 1937 to carry on their philanthropic endeavors. We preserve and share their legacy to inspire future generations.
Beyond leaving their wealth with El Pomar Foundation to benefit the well-being of Coloradans, three historic properties that were either created by or tied to our co-founders, Spencer and Julie Penrose, are also in the Foundation's care. Each a unique destination in and of itself, these properties connect us with the history of the Penroses and their contributions to Colorado -- as well as their continued legacy this region still treasures -- and also provide space to convene, reflect and educate on critical issues of today.
Annual Report & Financial Information
El Pomar Foundation annual reports highlight the Foundation's grant making and programmatic activities each year.
Learn more about El Pomar
Enjoy these videos that tell more of our story.